NEO-PANGEA: Multiple Promax finalists
May 3, 2016
Like artful beacons shining brightly through a maelstrom of mediocrity, recent projects for National Geographic Channel and for HISTORY have been named finalists in the 2016 PromaxBDA North America Awards.
The impeccable responsive design and groundbreaking control mechanics of the Breakthrough online experience earned it and National Geographic Channel a place in the finals for Promotional Mobile Application.
Featuring charming vintage 8-bit graphics and a playable preview of the full game, the interactive banner for HISTORY's Oak Island Dig is a finalist in two distinct categories: Channel/Content Online Marketing/Advertising, and Art Direction & Design: Online Advertising.
The winners will be announced on June 16 in New York, and if fortune favors our efforts, we'll be sure to invite you to celebrate with us. Check out the impressive competition here.
NEO-PANGEA: Innovation AWARD WIN at SXSW
March 20, 2016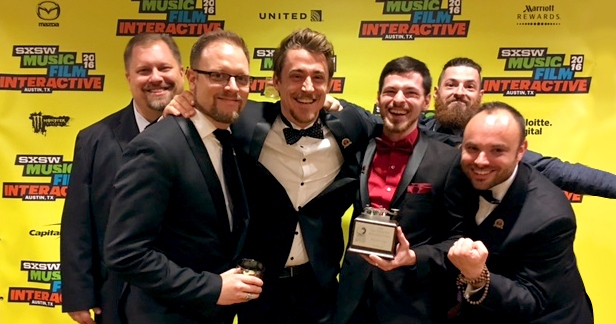 In a sea of brilliant minds converging to share ideas and sizzle in the Texas heat, Neo-Pangea's Breakthrough online experience won the "Responsive Design" award in the international 2016 SXSW Interactive Innovation Awards.
Awarded for excellent digital design and creating the best-integrated interaction in terms of content, aesthetics, and functionality, Neo-Pangea's project for National Geographic Channelfaced stiff competition from four other finalists. Among other projects also vying for the award was a dress that alters itself based on a viewer's gaze and a charismatic droid from a little movie you may have heard about, Star Wars: The Force Awakens.
The day before the awards ceremony, our enthusiastic team of sartorially resplendent Neo-Pangea Ambassadors introduced the project to the throngs of curious attendees at the inaugural SXSW Finalist Showcase. Even among 64 other top-quality finalist projects from all over the world, Breakthrough and Neo-Pangea proved to be irresistible to thousands of attendees who explored the showcase floor. The star of the booth was the buttery-smooth Breakthrough experience, but fresh gonfalons, straw hats, and swanky sashes never hurt when one it trying to make an impression.
During the unrestrained revelry that followed our momentous victory, we met and made merry with all sorts of interesting people throughout Austin (some of whom brought their own security details) until the wee hours of the morning. Our entire team is ecstatic and humbled by this honor, and we can't wait to do it all again next year!
NEO-PANGEA: BREAKTHROUGH - SXSW FINALIST
February 14, 2016
Our team poured a lot of blood, sweat, and caffeine into creating an amazing companion site for National Geographic Channel's Breakthrough series, so it's gratifying that our work has been selected as a finalist in of the 2016 SXSW Interactive Innovation Awards. This multimedia masterpiece will face off against undoubtedly formidable challengers in the responsive design category, which rewards excellent digital design and creating the best-integrated interaction in terms of content, aesthetics, and functionality.
The Breakthrough experience was crafted with the idea that it should offer an amazing experience on any device. While it's satisfying to cast your gaze into the future of science and technology using a traditional computer, things get even more interesting when you explore hundreds of pieces of content via intuitive motion controls on your favorite mobile device.
This won't be our first Texas rodeo… Our team was a SXSW finalist in 2013 for our internationally infamous Intern Abuser. Armed with lessons learned from several intense journeys into the very mouth of innovative madness, we expect to squeeze every last drop of mesquite-flavored awesomesauce out of the experience before we return to Pennsylvania's chilly embrace with a shiny new trophy.
Until then, you can check out the competition here.
NEO-PANGEA: EMMY DREAMS
September 10, 2015
Crafting exceptional work is its own reward, but when industry heavyweights take notice, it can be especially gratifying. Recently, Neo-Pangea was invited to present Eat: The Story of Food, one of our juiciest website collaborations with National Geographic Channel, to a panel of Emmy jurors at the Academy of Arts and Sciences in Los Angeles.
Jam-packed with lush visuals and sublime design, Eat: The Story of Food competed in the User Experience and Visual Design category. You can check out this spicy content smorgasbord for yourself on our portfolio page. Although we won't know the outcome of our Emmy adventure until September 9, our entire team is honored and filled with gratitude for having our work recognized as one of 2014's top projects nationwide.
"It was really amazing to be recognized with such an honor," said Aaron Beaucher, Neo-Pangea's Ambassador of Inspiration. "I think this speaks volumes to the impressive work our quaint group is able to continuously churn out working in partnership with the digital team at National Geographic Channel."